Doors opening to Asia: 10 years of the FTA with China
MBA. Hellen Ruiz Hidalgo
Strategic Communicator, (OCEX-UNED)
Vice-Rectory of Research
FTA with China: geopolitics, trade and diplomacy
On the 13th anniversary of the establishment of diplomatic relations with the People's Republic of China and 10 years of a Free Trade Agreement (FTA) between Costa Rica and China, it is worth looking back at the state of affairs at that time and the strategic objectives pursued by both nations with these initiatives. To take stock of the evolution of this relationship, a decade later, we need to visualize the perspectives that both nations could have set for themselves.
At that time, China had attained considerable global stature and was occupying important commercial positions in Latin America. Costa Rica, for its part, had understood the need to reevaluate its foreign policy in Asia. In 2007 it established diplomatic relations with China and on August 1, 2011 the FTA came into force for both nations.
A review of both realities is in order. For its part, Costa Rica recognized the space that China already occupied in its international trade. From the Chinese point of view, Costa Rica's economic and productive weight did not make of trade the fundamental incentive for China's foreign policy. For China, the move toward Costa Rica fulfilled, above all, global geopolitical and diplomatic objectives. Addressing both aspects, geopolitical and commercial, will allow us to appreciate the scope, benefits and challenges that the establishment of diplomatic relations and the approval of an FTA have had for both countries.
China in the world. At the time Costa Rica established an FTA with China, the Chinese economy was the second largest in the world, after the United States. Its GDP, measured in purchasing power parity (PPP), represented 12.6% of the world's GDP. ECLAC indicated, in 2012, that the size of the Chinese economy, at more than US$5 trillion, already exceeded, even then, the combined GDP of all Latin American and Caribbean economies.
Consequently, China was the main engine of global economic growth and a fundamental lever for the economies of many Latin American countries, especially in the Southern Cone.
In 2009, China accounted for 62% of global GDP growth. Since then, China has been the largest exporter of goods, accounting for almost 10% of world exports. It was also the world's second largest importer, with 8% of world sales.
The following graph shows the formidable dynamism of the Chinese economy. China went from being the world's seventh largest exporter to the first in a short period of 10 years.
GRAPH: WORLD EXPORTS 2000-2009 IN (%)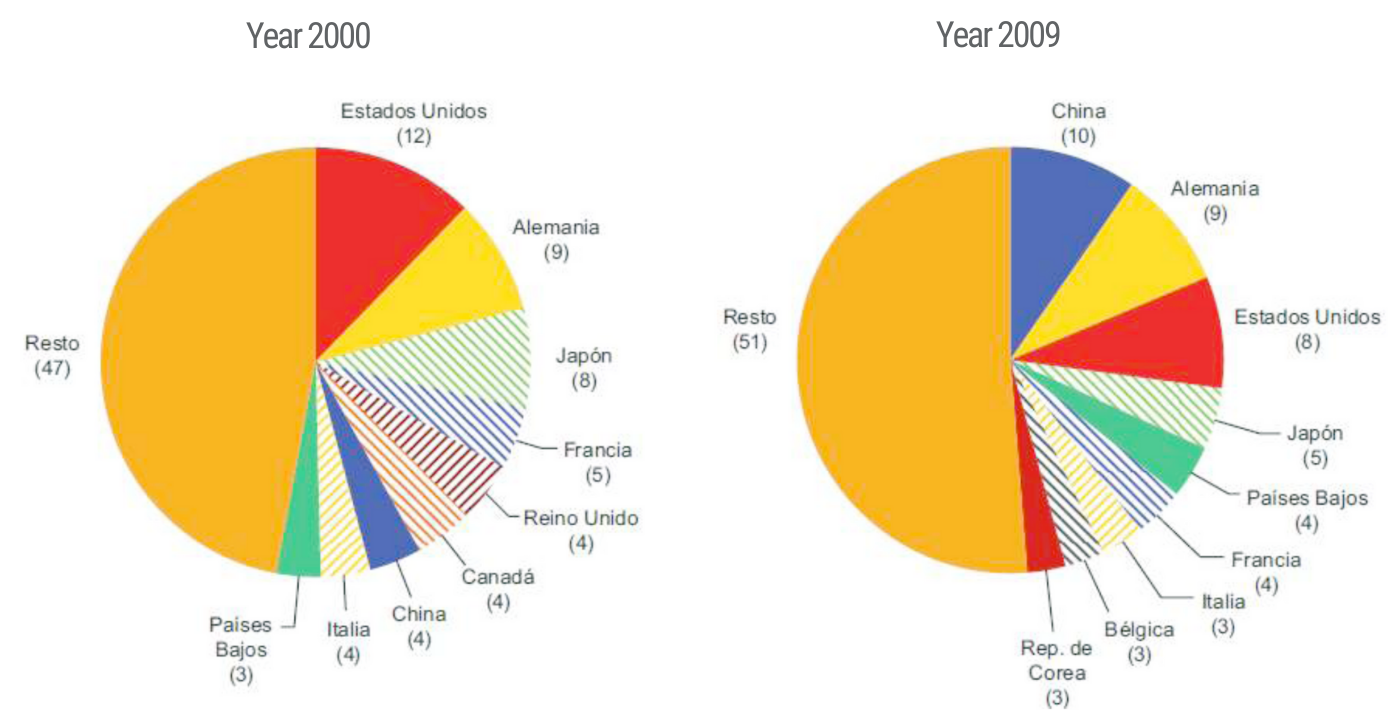 Source: ELAC. 2019
This impetus turned China into a voracious input market for its exports. Inputs of two types, (1) intermediate goods and raw materials that are linked to its exports and (2) final and intermediate goods that feed its increasingly parallel consumer market. In this way, China's appetite for imports was able to break through and reverse the decline in the value of raw materials on the world market.
China in Latin America. At the time of the establishment of diplomatic relations with Costa Rica, raw materials had reached 40% of the value of world exports. Latin America was the main supplier of some products imported by China: 55% of its total copper imports, 57% of its oilseed purchases, 95% of its soybean oil supplies.
In 2007, Latin America was the main supplier of some primary products that are part of the 20 most important categories of China's imports. This growing Chinese demand for commodities boosted exports and improved the terms of trade of South American countries and was the main factor in their economic recovery and growth.
China in Costa Rica. Although Costa Rica was not part of that Latin American pattern of exporting raw materials and primary goods, but its export profile to China resembled more that of high-tech producing Asian countries, this was an "external" factor. It was not structural within the country's productive capacities. It was concentrated on the export of INTEL electronic circuits from the Free Trade Zone, which were part of the production value chains in China. Therefore, they were independent of the country's policies and did not need an FTA to reach the level of exports they had.
But seeing China as the second largest importer of Costa Rican goods awakened interest in this country and, in 2006, with the arrival of the Arias Administration, was understood how important it was to take a step that would put on Costa Rica's trade agenda the relevance of China in the world economy.
On June 1, 2007, among the objectives of its trade policy, Costa Rica decided to initiate diplomatic relations with the People's Republic of China. It was the first step in its comprehensive strategy of trade insertion in Asia. However, Costa Rica was not a country with the capacity to supply raw materials or commodities in large volumes, but as family income in China increased, its consumption pattern would come closer to creating a demand with the potential to be exploited also by Costa Rica.
China's strategic objectives with Costa Rica. By establishing diplomatic relations and negotiating an FTA with Costa Rica, China was able to fill a strategic need: the reinforcement of its "one China" policy. When Costa Rica recognized Beijing as the only legitimate government of China, only 25 countries recognized Taiwan. But among them were 5 Central American countries, Panama and the Dominican Republic. Nicaragua had established relations with Beijing in 1985, during the Sandinista government, but in an incomprehensible act of ideological misalignment, the government of Violeta Barrios de Chamorro re-established relations with Taiwan.
On the part of China, the beginning of diplomatic relations with Costa Rica had a political significance, as an integral part of its international diplomatic offensive with the high symbolism of opening one more point of recognition of Beijing's territorial hegemony over Taiwan, as an integral part of the People's Republic of China. In this way, Costa Rica became, in Central America, the beachhead of the "one China" policy.
The Costa Rican gamble has paid off handsomely for Beijing. In 2017, Panama signed relations with China; in 2018, so did the Dominican Republic and El Salvador, all countries that share, together with Costa Rica, a regional FTA with the United States (CAFTA-DR) and could offer China an export platform to that country.
Costa Rica represented an advance towards the consolidation of a strategic geopolitical point, especially in Panama, where China made an investment of US$200 million in infrastructure to accelerate the expansion of the canal. It also signed an FTA with Panama. In addition, it is supporting the strengthening of free trade zones, building a cargo terminal and a train to the border with Costa Rica, to integrate it into its Silk Road initiative. This shows the visionary Chinese perspective of integrating the different trade routes in the Central American region and giving space to the creation of a Chinese hub, as a center for trade operations and transportation of Chinese goods throughout the Americas.


Costa Rica's strategic objectives with China. Costa Rica recognized China's growing importance in the world economy and the increasingly dominant role of Chinese trade with Latin America. Costa Rica was responding to the enormous potential of a country that had already become its second largest export destination. Costa Rica's strategic bet was to take full advantage of the import potential of the Chinese market, promote Chinese FDI in Costa Rica, establish alliances and infrastructure projects with Chinese companies and turn its diplomatic ties into strategic axes of its development. Therefore, its most important initiative was the start of negotiations with the prospect of establishing an FTA, which came into force on August 1, 2011.
Fulfilling the Memorandum of Understanding that established diplomatic relations, Costa Rica received the granting of non-refundable bonds of 30 million dollars, China built the National Stadium, founded the Confucius Institute at the University of Costa Rica, created the "Chinatown" on the Paseo de los Estudiantes in San José. Costa Rica and the People's Republic of China jointly attempted to build a refinery in the Costa Rican Caribbean. But, from a strategic point of view, Costa Rica was mainly betting on making its economy more dynamic with new and increased exports to the Asian market.
Indeed, trade flows have increased sharply since the entry into force of the FTA in 2011, with an average growth rate of 8.1% per year. In these flows, however, there is a marked contrast between the growing dynamism of imports and the sharp decline in imports. This led Costa Rica's trade deficit with China to increase from 17% to 36% of its total trade deficit.
In fact, Costa Rica's exports to China contracted at an annual rate of 12%. In fact, China, as an export destination, went from 3% to only 1%. On the other hand, after the FTA, imports from China increased at an annual growth rate of 10.1%. China used to supply 7% of imports, and in 2016 they were, rather, 13%.
GRAPH: COSTA RICA'S TRADE WITH CHINA
(MILLIONS OF CURRENT DOLLARS)
Source: PROCOMER Y BCCR. 2016
The volume of this export "meltdown" is explained by the high and artificial influence of electronic components exports from Costa Rica to China, which in 2007 represented about 95.35% of Costa Rican exports to China. When INTEL, the main exporter of electronic components in Costa Rica, moved its production in 2014, Costa Rica lost that export base to China. It remained dependent on exports of its own domestic products, for which the FTA did not provide the decisive advantage. The main barriers to entry into the Chinese market have not been of a tariff nature, but of a phytosanitary nature. Therefore, the opening of sanitary access protocols has opened the entry of meat and milk to that market.
Since 2006, China has positioned itself as the second destination market for our exports. However, the exportable supply to China was very concentrated. The four largest Costa Rican export products to China were ((1) processors and (2) electronic controllers (76%), (3) computer parts and (4) accessories (19.3%), for a total of 95.35%. Hence, the rest of Costa Rica's products that year accounted for only 4.7% of exports to China. The following table shows these proportions in dollar value.
EXPORTS FROM COSTA RICA TO CHINA AND HONG KONG (2007)
(IN MILLIONS OF DOLLARS)
Source: Own elaboration base on PROCOMER, analysis of export statistics 2007.
An outbreak of African swine fever in China wrecked, since 2017, the production of pig meat and caused worldwide soaring prices of that meat, the most consumed in China which is its largest producer and biggest consumer in the world. That offered Costa Rica a great opportunity. Between January and September 2020, pork exports to China accounted for 96% of the total export volume of this product. Along with that, at the end of 2019, the signing of protocols for the export of wild marine fish and frozen pineapple was finalized.
The metal, paper and plastic waste recycling industry has also benefited from the Chinese market after the FTA. But even with these new openings, Costa Rica's export performance is still far from what Costa Rica had hoped for when the FTA was negotiated.
On the other hand, the reduction of tariffs in Costa Rica has favored Chinese imports of technological goods, such as cell phones, projectors and computers. Likewise, vehicles for transporting goods and people, motorcycles and tires have taken benefit of the reduction in the cost of imports to improve their competitiveness with products from other countries. In all these cases, the reduction of tariffs has favored them, explaining the greater diversity and value of exports from China after the FTA.
Foreign Direct Investment (FDI) from China. At the time of the signing of the FTA, China had become the second largest exporter of capital in the world (8.5% in 2010), behind only U.S. investments, which represented 18.35% in the same year. Given China's similar FDI capacity and its strategic need to ensure the supply of primary and extractive goods, and in view of the abundance of natural resources in Latin America and the Caribbean (LAC), the region became a net recipient of Chinese FDI. The high demand for raw materials caused by the growth of Chinese industries and consumption had a positive effect on the terms of trade of Latin American countries in general, where the prices of their exports increased, while imports from China decreased in value, which has favored Latin American economies, also stimulated by Chinese FDI.
Costa Rica as a recipient of Chinese FDI. Costa Rica has seen that the origin of the FDI it receives has followed the order of importance of its trading partners. This is the case, for example, of the positioning of FDI from the United States. It is the 56% investor in Costa Rica and this position is consistent with its hegemony as the main trading partner. With other important partners, such as Italy, Holland and Mexico, something similar occurs. With them there is also a relationship between FDI and the weight of their trade relations. These countries account for 24%, 16% and 15% of foreign investment in Costa Rica, respectively.
GRAPH: TRADE PARTNERS (2019)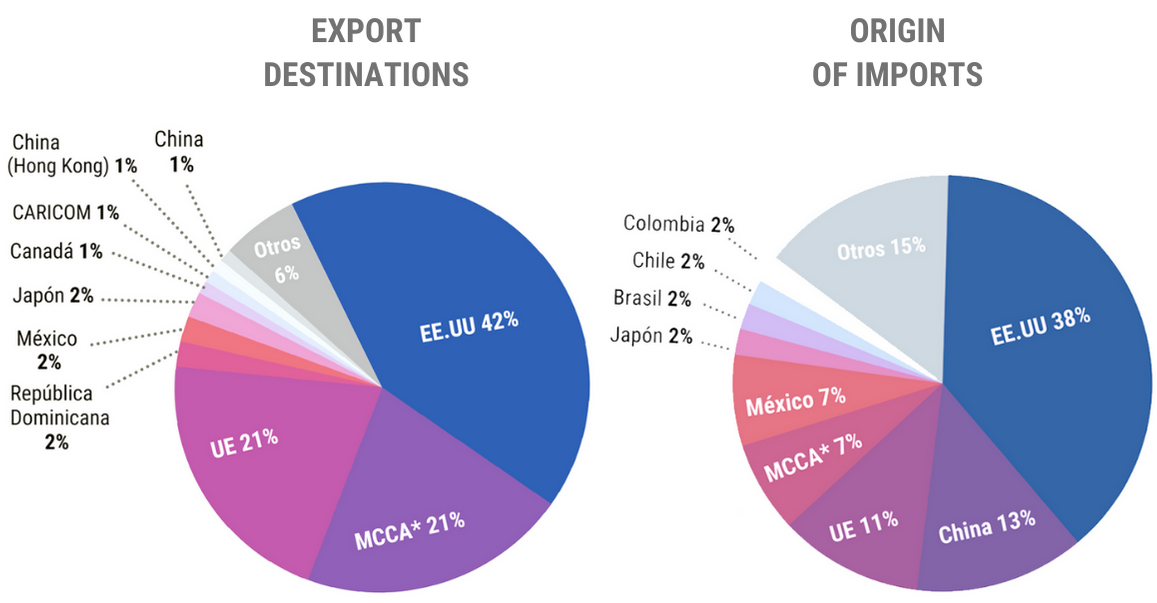 Source: Own elaboration based on data from COMEX, 2019.
Note*: CACM: Central American Common Market.
It is not a relationship that is strictly maintained, but, in general, there is a correlation between the importance of the investing countries in Costa Rica and their standing as trading partners. This has not been the case with China. Despite its growing weight as a trading partner, its investments in Costa Rica have been very scarce, growing, on average, less than 0.3%. In the whole period.
This is explained since FDI follows, in general, five types of incentives
to be able to satisfy a rich local market;

to have access to natural resources;
to obtain productive efficiencies of lower costs;
to gain access to third markets;
to improve geostrategic logistical positioning.
Analyzing Costa Rica's conditions to meet these objectives, with 47% of its labor force in the informal sector, Costa Rica's local market is very small, poor, with a low level of consumption and does not represent an incentive to invest. We also do not have abundant natural resources that China needs and there is no extractive industry. Our cost efficiency does not compete with that of Asian countries closer to China, nor with the regional ones of El Salvador or Panama. We still have the capacity to offer, through the FTA with the United States, a platform for access to that market. However, El Salvador can also offer the same with lower costs and, in the case of Panama, a more developed geostrategic logistic infrastructure.
Costa Rica: expectations of an Economic Development Zone (EDZ). Since the signing of the FTA, our country harbored expectations of productive transformation and of serving as an export platform for Chinese companies based on the creation of Economic Development Zones (EDZ), which would offer China a strategic foothold in the region and Costa Rica another base for its own development.
The creation of an EDZ was a possibility in order to obtain financial support and advice from China to develop territories with productive potential outside the Greater Metropolitan Area. During Laura Chinchilla's administration (2013-2014), based on preliminary studies by the China Development Bank and the University of Beijing, the Chinese counterpart presented a proposal to develop an EDZ in the Central Pacific region of Costa Rica, based on the revitalization of the Port of Caldera, with other satellite zones in Liberia, San Carlos, Turrialba and Limón. This project has been planned since 2014, but no progress has been made since then.
A balance of a decade of diplomatic and commercial relations. In less than 10 years, China managed, from its diplomatic relations with Costa Rica, to get three other Central American countries to establish relations and to provide China with spaces for trade and for the affirmation of its geopolitical advances on a global scale. From this point of view, Costa Rica would need to update its strategic moves to enhance its relationship with China, this time not in isolation, but as part of a regional strategy, together with the other countries of the isthmus and the Caribbean that have relations with China.
On the occasion of the celebration of the signing of a relaunching of relations with China and the incorporation of Costa Rica to the new Silk Road, Epsy Campbell, Vice President and at that time Foreign Minister of Costa Rica, expressed the diplomatic vision of her country: "We began relations with China when we were the only ones in the region, but now the strategy is different; we are no longer alone and we must see ourselves as partners to empower the four of us collectively (...) We are ready to make a very powerful alliance. This partner has come from afar to stay, with an enormous relative weight in all areas of the global agenda". In this scheme, the better use of the Chinese market, the attraction of its investments and common infrastructure projects, however, remain for Costa Rica, an unfinished expectation and a challenge only partially faced.